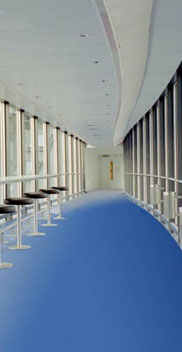 Concrete Restoration Inc. is a reputable, full service resinous flooring contractor providing superior consultation, design and installation of resinous (epoxy) flooring systems for all segments of the industrial, commercial and institutional market place.
With corporate headquarters in New Jersey, we can deliver resinous flooring services to a large section of the eastern U.S.A.
Our resinous floors are legendarily known for their unparalleled performance, while our all-inclusive needs analysis guarantees absolute satisfaction time and time again.
At Concrete Restoration, Inc., we are honored to have a management team consisting of experienced, skilled veterans from all aspects of resinous flooring contracting. With more than 75 collective years in design, installation and customer satisfaction know-how, our goal is help your business succeed in today's competitive, 'image is everything,' business environment.
Other flooring contractors can adequately install a resinous flooring system but lack the design and consultative knowledge.  Others can satisfactorily design a flooring system but struggle with the actual installation.  Concrete Restoration Inc. excels in all three critical phases and provides a turnkey solution to fulfill your flooring needs.
From automotive dealership service departments, aircraft hangars, and poultry plants, to electronic circuit board assemblers and everything in-between, we have the expertise to fulfill the unique needs of any and all flooring applications.
Concrete Restoration Inc.  is committed to installing each and every resinous flooring system with old school pride and dedication to detail seldom seen in the flooring industry today.
CALL US TODAY AT 610-530-0838 or EMAIL US AT sales@concrete-restoration-inc.com