When Concrete Restoration Inc. was founded, our vision was clear: in order to become a great epoxy floor covering contractor, we had to install exceptional epoxy floors and deliver uncompromising service. Our reputation as an industry leader had to be built one customer at a time. Realizing the monumental importance of the materials used, the search became a preoccupation; to find the highest quality epoxy floor covering products money could buy. These materials would become the foundation by which our reputation would forever be built.
After extensive research and years of laboratory testing, we at Concrete Restoration Inc. and our manufacturing partners have developed a collection of epoxy floor covering systems that solidify our reputation for unsurpassed quality and unwavering customer support.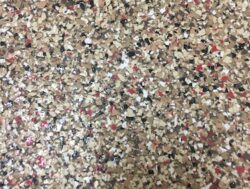 Popular Decorative Flake Flooring is versatile, long lasting and virtually zero maintenance. Choose from a variety of color options!
Epoxy Floor Resurfacer
For those looking for unparalleled durability, we offer a super epoxy floor  resurfacer utilizing a patented, ultra high strength epoxy formulation and a blend of proprietary aggregates. This ¼ of an inch (250 mils) epoxy floor covering is revolutionizing the industry with unparalleled compressive strength, impact resistance and wear. Highly specialized installation techniques help make this epoxy floor covering the most durable and best value in the market today.
Complementing the mainstay of our epoxy floor covering product line are two  additional systems custom designed and formulated to protect and enhance  floors with superior results.
High Wearing Epoxy & Polyurethane Coatings
Rounding out the traditional epoxy floor covering systems is our economic high
wearing epoxy and polyester polyurethane coatings.
Better known as thin mil epoxy floor systems, these coatings lasts much longer than traditional paints and sealers. The additional traction and light reflectivity improve safety and provide world class first impressions. Years of research, superior formulations and time tested installation techniques guarantee these thin mil floor systems will be a source of pride for years to come.
Finally, the addition of highly specialized epoxy floor covering products make our product offerings complete.
Broadcasted Epoxy Floor Systems
Commonly known as broadcasted epoxy floor systems, specified to be installed at either 1/8 of and inch (125 mils) or 1/16 of an inch (65 mils), these two systems utilize cycloaliphatic amine blended epoxies and indestructible silica quartz aggregates. In combination, they produce an epoxy floor covering matrix with extreme abrasion resistance and wear characteristics. Additionally, the aggregates produce a safe, non-skid surface that lasts the life of the floor.
Urethane Concrete Systems
Urethane concrete systems, primarily used in the food and beverage industry, are formulated to withstand steam cleaning. Methyl-Methacrylates, commonly known as MMA's offer one hour cures in temperatures as low as -20 degrees F. Decorative colored quartz epoxy floor covering offer an endless variety of  decorative quartz color combinations and various levels of slip resistance and  surface texture. Electrostatic dissipative control epoxy floor covering, commonly known as an ESD, offers outstanding static control and consistent ESD properties across an entire floor.
Our entire epoxy floor covering product line meets the most rigid Federal, State and Local VOC laws. They provide maximum chemical resistance, are easy to  clean yet safe, and have been formulated to satisfy all the demands and  expectations of today's market place. Each and every floor system is backed by our exclusive Protection Plan which includes long term warranties against  delamination and defects in materials and workmanship.